What is Solid Surface? – Diving In Beyond the Surface Level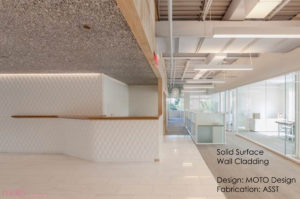 We all know solid surface is both durable and repairable. Do we know what this man-made surfacing material is made of? Solid surface was invented in 1967 and patented in 1968 by DuPont. They formally introduced the Corian® brand to the public in 1971 at a trade show in Houston. It was first promoted as a kitchen and bath countertop material. Solid surface is made of a blend of acrylic, epoxy or polyester resins and alumina trihydrate (ATH). This mixture is poured onto a moving belt and cured in an oven. Both pigment and aggregate add-ins can be mixed into the sheet to create an infinite variety of color and textural effects.
With the expiration of DuPont's patent, a plethora of new manufacturers have introduced competing brands. This has pushed the evolution of solid surface beyond countertops to more vertical and complex architectural applications. All solid surfaces are cast polymers. Some utilize special formulations to create enhanced transparency or artistic effects to differentiate their products in the marketplace. Brand confusion has many design professionals being uncertain of performance characteristics for various brands in the marketplace. This uncertainty can reduce innovation and expansion into additional architectural applications.
In response, ASST has primarily focused on propelling fabrication technology. We believe providing design professionals with unbiased valuable case study information regarding our experiences to be valuable to the design community. We work in concert with ALL brands to provide fabrication solutions to assist with project challenges other fabricators avoid.
---
First impressions always count! Be sure to call us for your next solid surface project! Whatever you need, ASST can build it to your exact specifications, in a safe manner, and to the quality standards you expect. Contact us now online or call us at 717-630-1251.