Did roofers show up to install the casework for your large commercial project? If you have worked in large commercial construction, you have either suffered the consequences of bad installation or heard the stories of it happening. Did the PLAM on the wall cabinets not match the PLAM on the base cabinets? Often times this happens when materials are ordered with a large time span between procurement. Did your millworker not inform you that they were delayed because of a material shortage until the day of installation?
These are just some of the ways your large commercial construction project can come off the tracks. We are all acutely aware that we are at the tail end of a pandemic that has rocked commercial construction. We are dealing with supply shortages, employee shortages, and unheard-of escalations. Coupled with owners that may not understand how this affects schedule or cost and you have a recipe for disaster. How are your millworkers dealing with this? What happens to your project when your millworker is ill-equipped to maneuver in these difficult times of commercial construction? Will your project be delayed? Will occupancy dates get pushed? 
At ASST, we know that materials are in short supply. We know that there is a serious shortage in labor. We know that times are tough all around. What are we doing about it? We have always been willing to provide VE options when bidding a project. We can also offer material options when we know that a material may be difficult to procure. We are ordering further out than we ever had before and we are storing materials that we know are being delayed. We are using multiple shipping companies to ensure that if one cannot provide a mobilization for our project, we have a backup that can. These are just some of the ways we are handling the current issues in commercial construction. At ASST, one of our core values has always been innovation. We continuously generate new ideas and methods to ensure success.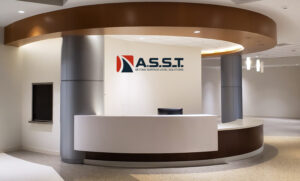 Would you and your team like to do a virtual shop tour of one of our facilities? It only takes about 25 minutes and we demonstrate how we successfully plan and complete large millwork projects on time and in budget. Email us at info@asst.com to setup a virtual shop tour.