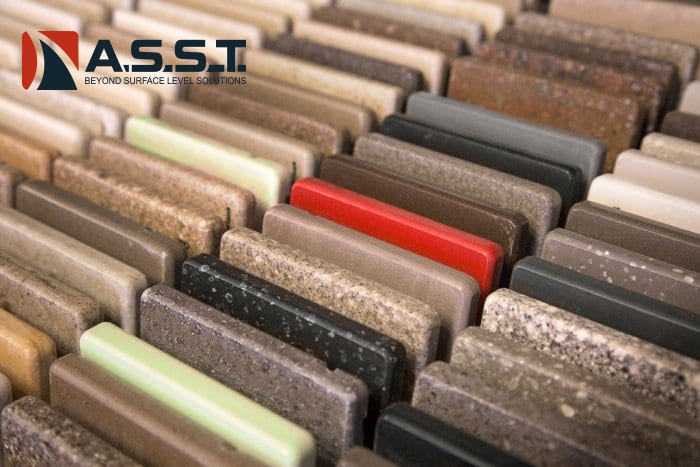 How important can a meager piece of material be when it comes to your project? Does it have the ability to bring all forward progress of a project to a crushing halt? If your palms are starting to sweat and your blood pressure is rising just from the thought, then you already know how much you actually need all of those little pieces of material.
You are excited, after all the days and weeks of planning, your finished solid surfaces are arriving at site ready for installation. Everything is going just great and all is right in the universe… Then the General Contractor calls to your attention the blindly obvious mismatched materials used throughout the entire project… How is this possible? What went wrong? All of sudden, those little scraps of material that you used as your coffee coasters reveal their value and you begin to see just how big of a role they play in your project.
Submittals tend to be one of the most overlooked areas in project planning and yet are one of the most critical areas when it comes to the success of any project. A submission, when used in its simplest form, can be defined as a process. A process in which product data, material samples, and renderings are examined so as to be approved or rejected for use in a project. Missing this step or failing to acknowledge it can be the moment where success is breached and financial loss is the only sure outcome; thus making the submittal process one of the most overlooked areas of project management and material logistics.
ASST has made considerable efforts to organize and capture the submittal phase of project planning in an attempt to ensure success of every project awarded to our family of customers. ASST chooses to work directly with the Architects, Designers and GC's throughout the entire process. Utilizing proprietary in-house software and live working documents, we record and track every step of the submittal process. We openly invite our clients to access, as well as update, documents to allow for the most comprehensive and up-to-date information possible for every project. This helps secure a successful project and increased profitability.
---
ASST is uniquely positioned to fulfill all aspects of your project. Whatever you need, ASST can build it to the exact specifications, in a safe manner and to the quality standards you expect. Contact us now online or call us at 717-630-1251.