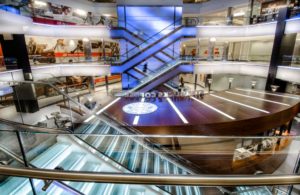 Architects, Designers and General Contractors need solid surface subcontractor resources that are willing to develop the finer technical details of a project. Time spent "upfront" by a qualified subcontractor addressing these issues can contribute to the overall success of a project.
Construction schedules today have become tighter in our innovation and technology focused world. Design Professionals are challenged to find the time necessary to develop project design details. Communication slowdowns from Architect RFIs contribute to schedule delays resulting in headaches for the General Contractor. Focused on the "bigger picture" of running a project, General Contractors are then squeezed to find solutions to keep their projects moving.
ASST is proactive in our approach to providing the necessary design assistance and addressing the details of fabricating. ASST was asked to assist with the development of a large clear resin panel media wall for the Chevy Chase Pavilion. Working closely with Bethesda–based architect Streetsense, ASST arrived at a design solution for a custom bracket and aluminum joint system to connect the resin panels across the face of a media wall. A mock-up was created for the Owner with the LED lighting modules to test the distance required from the face of the resin. This was a critical dimension. Too close or too far and the projected images would be distorted. The Chevy Chase Pavilion project was an amazing success and an example of the kind of collaborative design assistance we perform here at ASST. It is our mission to ASsiST!
ASST is uniquely positioned to fulfill all aspects of your project. Whatever you need, ASST can build it to the exact specifications you require in a safe manner and to the finest quality standards you expect. We look forward to Going Beyond™ to address your exciting project challenges. Contact us now online or call us at 717-630-1251.