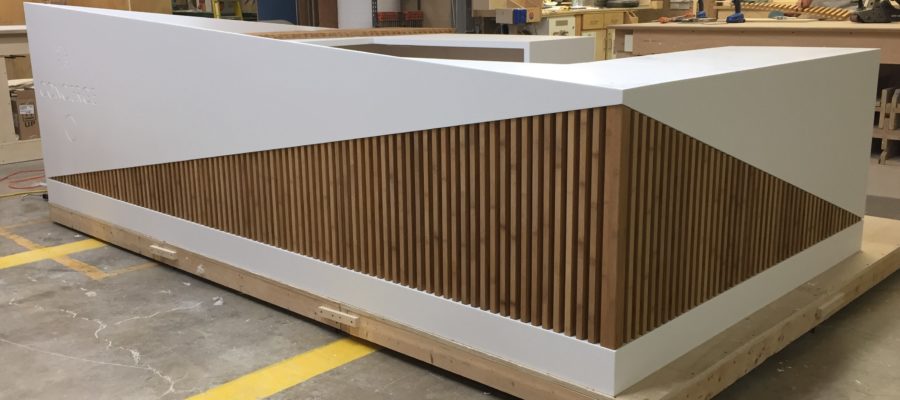 Solid Surface & Bamboo – Sustainable Design Combinations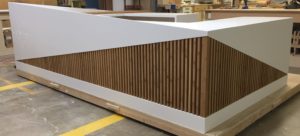 A new design trend we are currently seeing in our fabrication facility involves combining wood with solid surface. Design professionals are continually looking for new ways to provide their clients with unique branded environments. Bamboo is a favorite mostly because of its status as one of the leading renewable wood materials available today. Moreover, its flexibility makes it ideal to combine with curved thermoformed solid surface fabrications. Many solid surface brands today also offer recycled content options in their sample boxes.
Incorporating natural and man-made materials together requires some knowledge of advanced assembly techniques. Many solid surface fabricators may not have experience integrating solid surface and wood materials successfully. Wood can perform differently than solid surface. Although they both cut with the same types of tools, precautions should be taken when doing the final assembly. Temperature and humidity fluctuations can also cause headaches with swelling and splitting.
Experience is a great teacher. ASST has found that allowances should be made for expansion and contraction to prevent cracking/joint separation. The above detail image is of a new information desk we recently fabricated for a retail complex in Miami. The design team has a culture of sustainability in all of their projects and wanted contrasting materials with stained bamboo and white solid surface. A CNC machined logo provides a distinctive final touch. We always enjoy a challenge here at ASST and have the experience of working with whatever our customers bring to us to fabricate!
---
ASST is uniquely positioned to fulfill all aspects of your project. Whatever you need, ASST can build it to the exact specifications, in a safe manner and to the finest quality standards you expect. Even our EMR safety rating is outstanding at .793! We look forward to Going Beyond to address your exciting project challenges. Contact us now online or call us at 717-630-1251.