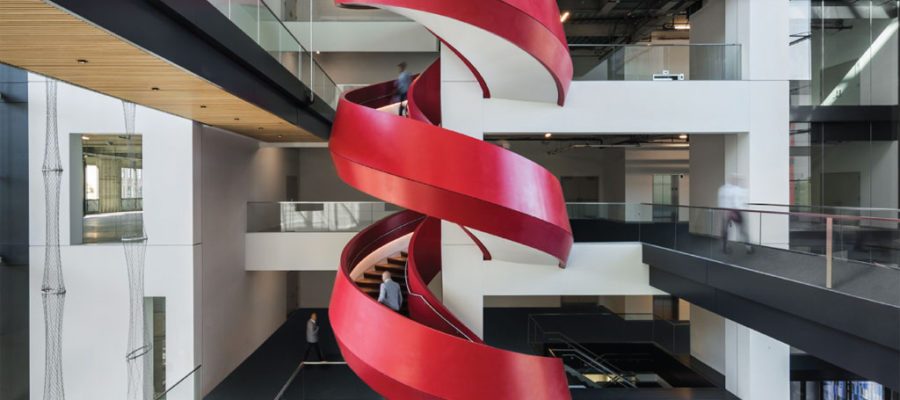 Extreme Solid Surface Thermoforming – Going Beyond Surface Level Solutions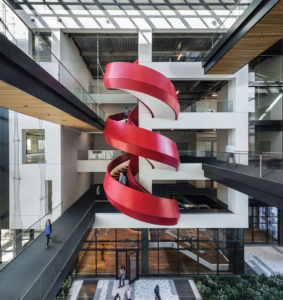 Forming solid surface into complex geometric forms is still a relatively new topic to many design professionals. With advancing computer technologies, the future looks bright for those looking to push the boundaries of design with solid surface materials.
Although thermoforming has been around awhile, advanced technologies to assist with fabrication has not. 5-axis CNC machining is an essential tool used in creating the molds necessary for thermoforming. Many fabrication businesses are focused on flat solid surface countertops and/or quartz. They may only have a small oven or vacuum table to form simple curves. The equipment costs and learning curve for thermoforming are out of reach for many of these fabrication businesses.
To address this issue, we focused our business from the beginning around thermoforming. ASST created a truly "niche" business, catering to advanced projects requiring fabrication solutions for commercial construction. ASST invested heavily in the necessary equipment and training required for thermoforming. ASST's headquarters includes both offices and fabrication facilities, as well as a large thermoforming workshop. The workshop features three thermoforming ovens and two vacuum tables, as well as a 360-ton proprietary press and a vacuum press related to patented ASST technologies. It also has three CNC machines: one 5-axis CNC machine and two 3-axis CNC machines which allows us to reintroduce thermoformed parts to the 5-axis for final size machining. For cutting parts, ASST also has a Schelling panel saw. The shop is set up into typical "line work" areas for more common flat countertop fabrication work and has various open workshop areas for custom projects. Custom projects that frequently feature thermoformed solid surface parts. It is ASST's legacy to continue assisting design professionals with thermoforming project challenges other fabricators avoid. Be sure to contact us with your next solid surface project!
ASST is uniquely positioned to fulfill all aspects of your project. Whatever you need, ASST can build it to the exact specifications, in a safe manner and to the finest quality standards you expect. Our EMR safety rating is outstanding at .793! We look forward to Going Beyond to address your exciting project challenges. Contact us now online or call us at 717-630-1251.