Single Source For Healthcare Millwork
As of 2020 there were 5,139 community hospitals in the United States (www.aha.com). New healthcare spaces today are no longer the institutional hallways that instill desperation and smell like antiseptic. Thanks to pioneers like Esther Sternberg, we now know that there is a direct correlation between the environment that we occupy and healing. Healthcare providers are looking to offer a space that provides hope and healing. To make this happen, new healthcare facilities are now offering premium finishes that include custom solid surface nurses' stations and reception desks.
Times are tough in commercial construction. We are all dealing with supply chain issues (see our article about this here), labor shortages, logistic shortages and turbulent markets. When a GC buys out the millwork, are they buying from the same subcontractor? Are they buying the wall panels from the same supplier as the cabinets? Are they buying the flat top solid surfaces from the same subcontractor as the custom thermoformed nurses' stations? Is the casework sub communicating with the tops sub? What happens when the tops show up and the casework is not there because of a delay in material procurement for the cabinets? Handling multiples subcontractors for a single millwork package is a sure way to endure cost overruns, scope creep, project delays and many change orders (queue the cash register drawer).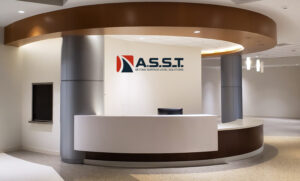 Why add more moving parts than necessary? At ASST, we have been providing Division 6 and Division 12 millwork, casework, solid surfaces and quartz for large healthcare projects for 24 years. We understand that to become a beacon of hope for an entire community, the healing space must be innovative and constructed with the highest standards. We have the experience to provide project scope on time, in budget and we do it safely. Whatever you need, ASST can build it to the exact specifications, in a safe manner and to the finest quality standards, you expect.We look forward to Going Beyond for your exciting project! Contact us today at info@asst.com or visit our website at www.asst.com.