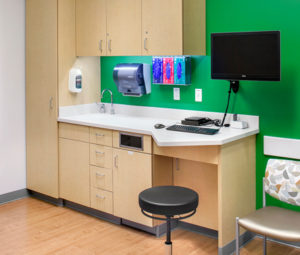 Sustainable and responsibly resourced materials are a requirement for most projects today. With LEED points a frequent requisite, the core materials specified need to be green. Design professionals have to comply with a variety of environmental requirements. Carbon emissions, regionally sourced materials and recycled content are all of foremost concern when specifying casework.
With a plethora of regulatory certifications required for wood products, it can be difficult to discern what information is most relevant. Some casework manufacturers are intentionally vague on the origins of their core materials to disguise their source. Design professionals today rarely have the time to investigate and confirm these materials with the certifications needed for a project.
In response to provide our customers with great service, ASST has developed a dealership alliance with TMI Systems to help with overcoming these challenges. TMI has been in business since 1969 and their trusted commitment to sustainable design is unmatched in the casework industry. Core material options are available with 20% recycled content as well as low emitting adhesives and composite woods. These are only a few of the benefits to this new dealership alliance. Combined with ASST's industry leadership with solid surface fabrication, design professionals now have a comprehensive resource to obtain a CSI DIV 6 &12 specification solution. Whether it is for healthcare, education, corporate or retail our team can ASsiST you with your sustainable project goals. Who says it's not easy being green?
ASST is uniquely positioned to fulfill all aspects of your project. Whatever you need, ASST can build it to the exact specifications, in a safe manner and to the finest quality standards you expect. Even our EMR safety rating is outstanding at .793! We look forward to Going Beyond to address your exciting project challenges. Contact us now online or call us at 717-630-1251.