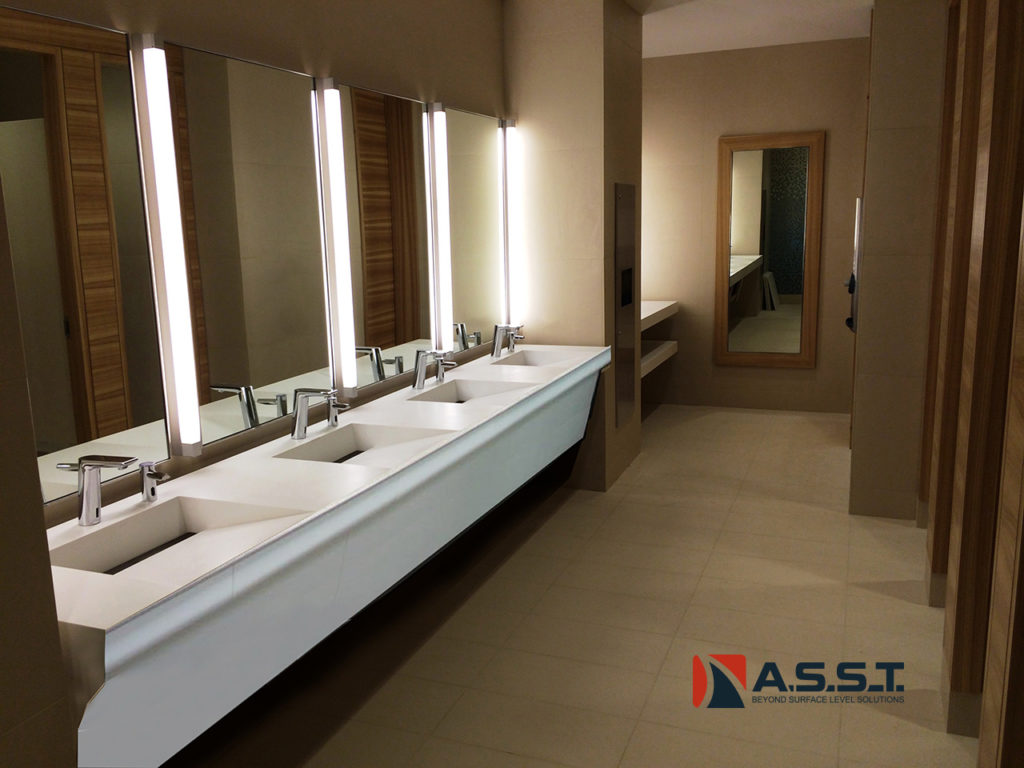 What is a flush mounted sink? A sink whereas the edge is flush with the top. There are different ways to mount a sink. Sinks can be top mounted, under mounted, or flush mounted. A sink that is glued or braced to the top of the counter creating an overlap is top mounted. This type of sink can be simply dropped in, glued and caulked. It can also be dropped in, fastened with hardware underneath and caulked. Under mounted sinks are glued under the counter or mounted with hardware. Flush mounted sinks are also glued under the counter. The counter is then cut down to fit the dimensions of the sink.
In all commercial environments reducing the risk of bacterial infection is essential. Mitigating the risk of bacterial infection is most essential in healthcare, education and laboratory environments. Since up to 80 percent of a bacterial cell's weight is water, a sink is an ideal place for bacteria to propagate. Traditional top mount or bottom mount sinks leave a lip. This lip combined with moisture is a perfect environment for bacteria to lurk. Designing and building sink tops and bowls that promote bacterial growth can be a liability for the customer.
Flush mounted sinks are seamless, reducing the risk of bacterial growth, and aesthetically pleasing. The sink and top act as one continuous surface. This seamless design allows for a chic look and a healthy environment. ASST fabricates and installs these solid surface flush mounted sinks for commercial environments.
---
Call us today for your next commercial solid surface flush mounted sink project! Whatever you need, ASST can build it to the exact specifications, in a safe manner and to the quality standards you expect. Contact us now online or call us at 717-630-1251.