In February 2022 the Bradley Corp conducted a survey and 51% of Americans stated that an unclean lavatory shows poor management. COVID brought a heightened sensitivity to the cleanliness of public spaces and even more so in public restrooms. There is a sense of fear that some people have when entering a public space that may be contaminated. That fear is a direct reflection of how a person feels about the owner of the building.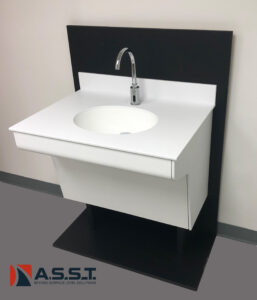 Traditional plastic laminate vanity countertops and drop-in sink bowls provide an opportunity for moisture to destroy a particle board substrate. This creates an optimal environment for bacterial growth. We have all witnessed public countertops with laminate surfaces that have swelled from exposure to water.
To address these common problems, ASST developed a wall hung solid surface vanity system. The 30" wide modular units utilize a sturdy aluminum and polyethylene support structure with a removable solid surface front panel allowing for easy access to plumbing. The Modular Vanity system™ is available in 30" wide increments and includes a solid surface top, backsplashes, side panels and your choice of an integral mounted sink. The system is available in all solid surface sheet products. Without wood that can rot and grow mold, the system is perfectly designed to handle rigorous public restroom environments.