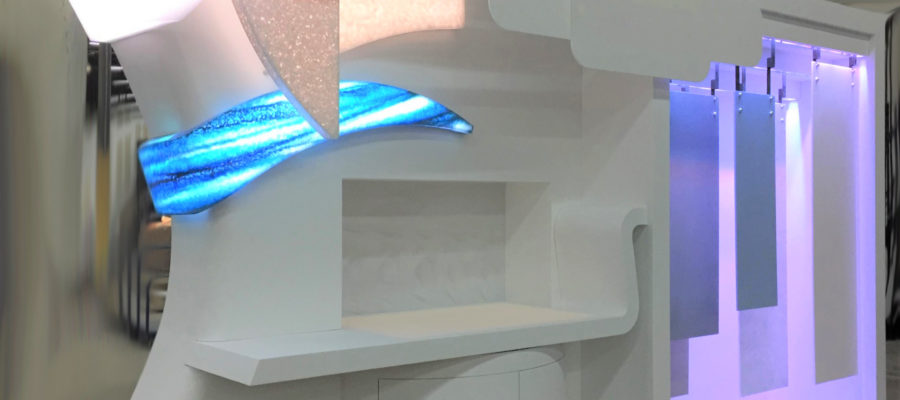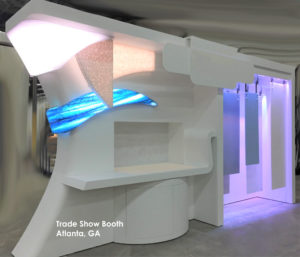 Lighting and wall surfaces make a huge impact on interior spaces and can support a brand message. Design professionals are becoming increasingly involved in strategies that incorporate branding. Durable solid surface materials can be thermoformed, CNC machined, and backlighted to create a variety of dramatic effects. Translucent solid surface can be backlighted with LED panels and light controllers. A programmed display of color images promoting a brand can be run continuously in a loop. The opportunities are endless for stunning aesthetics.
Design professionals are responsible for how interior spaces look. Often how lighting is implemented to achieve an aesthetic is confusing, especially backlighting. Backlighting evenly is one of the real challenges of achieving a branded aesthetic. The distance behind a solid surface panel is critical to prevent hotspots and shadow lines. Requesting a mockup from the fabricator is in most cases required to evaluate the correct distance. Undesirable shadows can also be cast around CNC machined logo corners, and curved areas if not properly masked from behind. LED lighting is the best choice for most backlighted applications and reduces maintenance and power consumption. Contracting fabricators with firsthand knowledge and experience with backlighting architectural surfaces is essential to achieving desirable branded looks for the client image.
ASST has the depth of knowledge and experience to address the technical challenges. Our team of expert project managers and technical staff have a unique perspective having worked on hundreds of backlighted projects. We can share past relevant project experiences and case studies guiding you through the entire process. We love assisting customers and making their vision real!
---
First impressions always count. Be sure to call us for your next backlighted solid surface project! Whatever you need, ASST can build it to the exact specifications, in a safe manner and to the finest quality standards you expect. Contact us now online or call us at 717-630-1251.