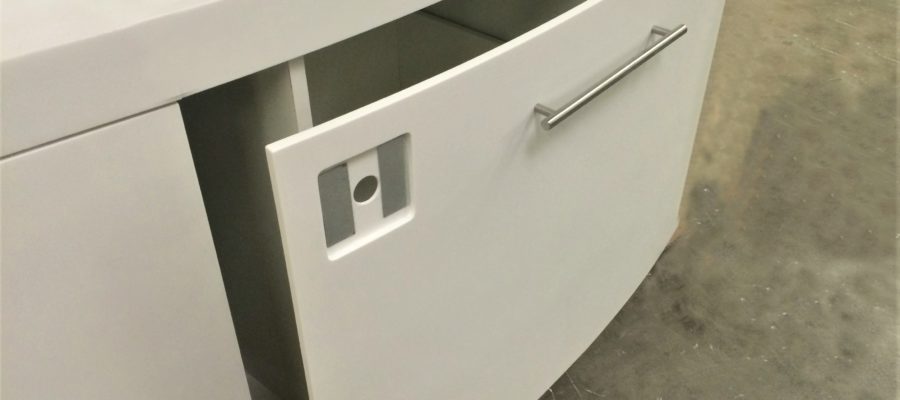 Solid Surface Casework Construction – How to "Skin a Box" with Solid Surface
Solid surface countertops and vertical surfaces continue to be popular when durability and maintenance are a high priority. It is only natural that design professionals and end users alike now want that durability in casework. Healthcare and public spaces require solid surface fixtures that can withstand the rigors of heavy use.
Design professionals have found though that specifying casework with solid surface can be a budget balancing act. Solid surface seems to be a "value engineering" item even on large healthcare projects. Although solid surface countertops may remain on a project, the end result unfortunately is that the actual cabinet is changed to a plastic laminate surface.
Thankfully solid surface manufacturers today are continuing to innovate. For example, Avonite ® Surfaces manufacturers an 1/8" "skin" material that can be wrapped around casework boxes made with FSC certified wood fiber materials. Suitable for only vertical applications, these "skins" provide enhanced performance and help with infection control when used in healthcare settings. We have found value in providing a more innovative comprehensive solution for our customers. ASST has now partnered with TMI Systems Corporation as a dealer for their line of casework. Based in North Dakota, TMI is a leader in quality casework fabrication. They are an excellent reputable resource and ASST looks forward to working with them on many future projects. With this new alliance, ASST can perform work with wood veneers, plastic laminate, Trespa®, stone, metal, glass as well as all brands of solid surface and resin plastic materials. Our innovative team of estimators, planners and project managers collaborate and deliver project results in a way few competitors can. We look forward to working with you on your next project!
---
First impressions always count. Be sure to call us for your next solid surface casework project! Whatever you need, ASST can build it to the exact specifications, in a safe manner and to the finest quality standards you expect. Contact us now online or call us at 717-630-1251.