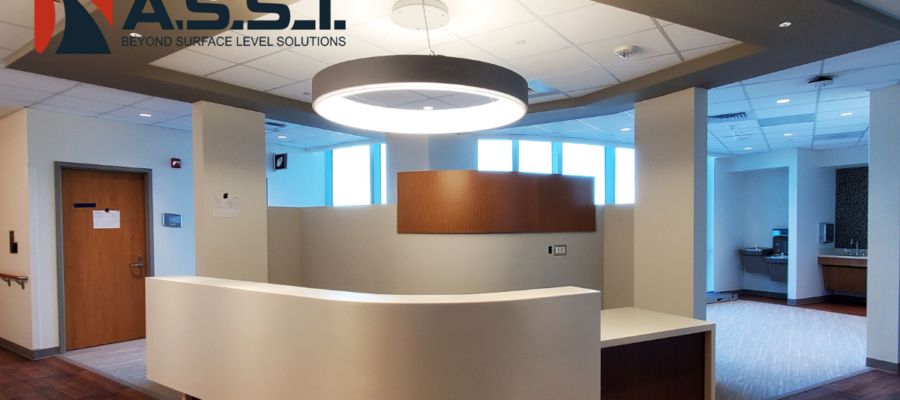 Beyond The Surface Level
There are millworkers and countertop fabricators struggling to prosper in almost every city. Most fabricators can make a top to exact field measurements without issue and it is easy to find casework that will measure up to your project. There are many choices for Division 6 & Division 12 Millwork, Casework, Solid Surface and Quartz fabricators. Finding a vendor or subcontractor is not a difficult task. Finding a millwork, casework, solid surfaces and quartz partner that can take your project Beyond the Surface Level is another story.
What if you are designing or building a large health system and you need a partner that can handle the solid surfaces, quartz, millwork and casework. Some of the solid surfaces are unique and thermoformed and some of the solid surfaces are flat tops. The thermoformed surfaces are patterned and you need to know what the seams will look like. You need 575 of them. The millwork and casework have different requirements depending on the department and quartz is going in all of the executive offices. For this type of project, you need a partner with years of experience and the capacity to handle this volume of work. Do you know who you will call on to assist with your high-profile project?
At ASST (ə-ˈsist) we have been fabricating and installing Division 6/Division 12 Millwork, Casework, Solid Surfaces and Quartz for 22 years. We have successfully completed a large portfolio of health systems, schools and public space projects and we have received numerous awards for innovation and craftmanship. We know that if there is particulate in a solid surface it may not bend well; how tight a radius bend can be with some solid surface materials and we know that certain colors of solid surface material do not seam well. Many laboratories, pharmacies and critical care operations are now requiring organic-free material in their furnishings and we are now offering our Welnest Furnishings which have no organic material (www.welnest.com).
ASST is uniquely positioned to fulfill all aspects of your project. Whatever you need, ASST can build it to the exact specifications, in a safe manner and to the finest quality standards you expect. We look forward to Going Beyond for your exciting project! Contact us today at 717-630-1251 or visit our website at www.asst.com.