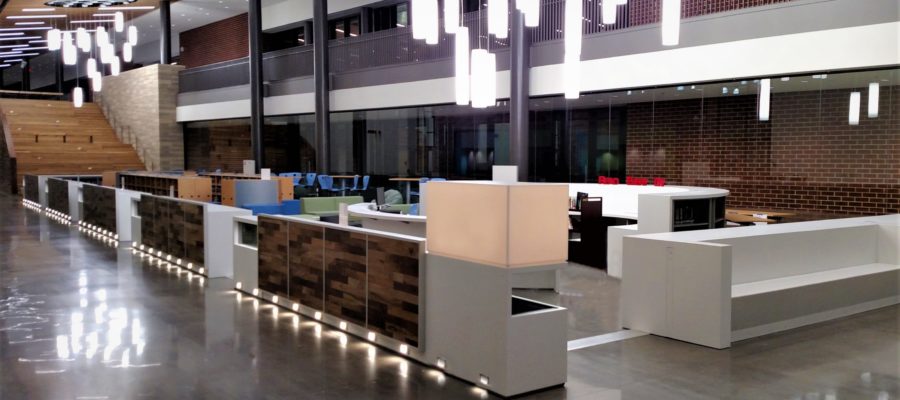 Solid Surface in the Classroom – How Solid Surface is Changing Education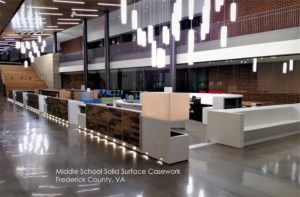 Solid surface is beginning to be specified by more design professionals for interior classroom educational environments. Durable exterior materials for schools are usually brick masonry. Today, we see an evolving similar logic with solid surface interior surfaces. Durable solid surface is gaining strong momentum in educational interior applications because of it's demonstrated lasting value. School districts are seeing the wisdom of utilizing solid surface on the interior to future proof their buildings.
Design professionals struggle with balancing surface material design, budget and performance characteristics. Class A fire rated solid surface materials are ideal for educational classroom environments. Both the antimicrobial properties and ease of cleaning outperform lesser quality surfacing materials. Unfortunately, solid surface can be easily value engineered out of a project. It can be substituted by plastic laminate which has a shorter lifespan and lacks any antimicrobial properties. Many solid surface fabricators are unable to provide project information on lifecycle costing to help design professionals make a strong case for keeping their solid surface educational project specifications intact.
ASST is able to assist design professionals with information on project lifecycle durability and performance. Our educational project history can provide an experienced voice for a wide variety of applications. From vertical surfaces to casework and countertops ASST can help. For twenty years, we have provided design professionals with relevant information to support your vision. We invite you to contact us for your next education project!
---
Future proof your next solid surface educational project with ASST!  Whatever you need, ASST can build it to the exact specifications, in a safe manner and to the finest quality standards you expect. Contact us now online or call us at 717-630-1251.