Making Spaces That Inspire – Stimulating Solid Surface Solutions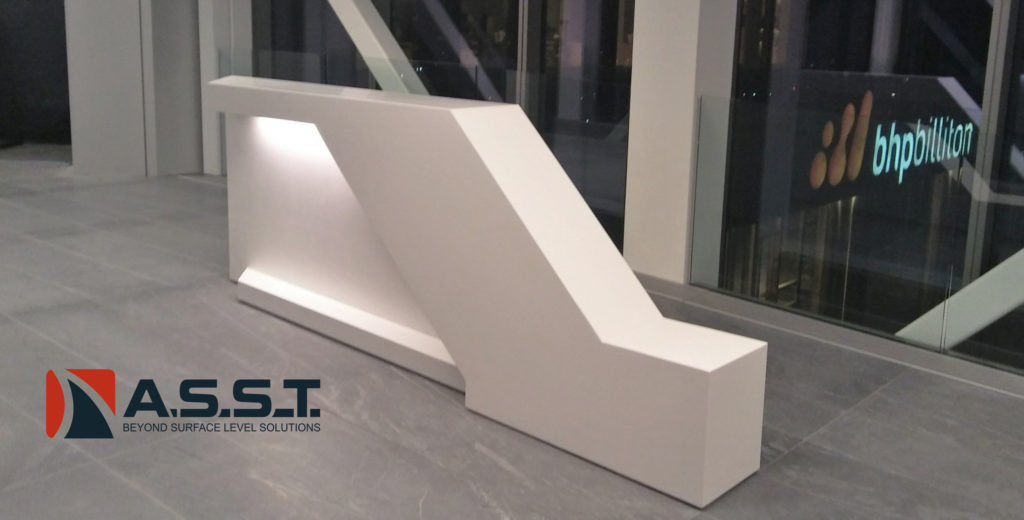 Can inspiration be engineered? Can the urge to do something creative be designed? What if we told you that solid surfaces could be formed into ANY shape and that flat tops are yesterday's solid surface? Most people don't realize that you can get the everlasting qualities of solid surfaces in whichever design you want.
Solid surfaces are known for minimizing the spread of bacteria and durability. Solid surfaces are not known for the ability to be formed into different shapes. Architects want to illicit emotions with their designs. Owners want to wow customers with a product that is long lasting and cost effective. General Contractors want a design that is uncomplicated and safe to build. How do we provide the desired outcome to all parties involved?
Because of ASST's depth of experience we can provide a wealth of knowledge for your solid surface project. We can share creative ideas and best practices incorporating solid surfaces into your next project. Whether you are looking for curved solid surfaces, translucent backlit vertical panels or unique public seating, ASST can help. We can provide you with the project inspiration and technical details to make your solid surface strategy a success!
---
ASST is uniquely positioned to fulfill all aspects of your project. Whatever you need, ASST can build it to the exact specifications, in a safe manner and to the finest quality standards you expect. We look forward to Going Beyond for your exciting project! Contact us now online or call us at 717-630-1251.