Real Healthcare Casework Solutions – Comparing "Apples to Apples" in the Marketplace Today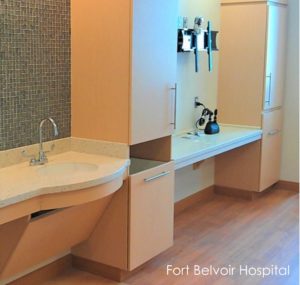 Specifying a reliable resource for healthcare casework is of prime importance. With everyone in the construction industry being stretched, specifying the right casework system that adheres to project specifications is critical. From sustainable construction and solid surface materials to acquiring LEED points, the pressure is on to specify the right choice for end users.
It is difficult to sort through the variety of options for healthcare casework brands in the marketplace today. Few manufacturers provide the transparency to allow an "apples to apples" comparison of product. This creates confusion in the marketplace and presents challenges to specifiers and contractors who want to recommend the right product for an end user. This market confusion has necessitated the creation of extensive casework mockup evaluations for projects adding additional time for evaluating potential casework product.
To minimize the above issues and provide a more comprehensive solution, ASST has now partnered with TMI Systems as a dealer for their line of healthcare casework. Based in North Dakota, TMI is a leader in high quality laminate modular casework fabrication. Their sustainable modular casework products feature railmounted overhead cabinets and forward-thinking reconfigurable base cabinets. With Autodesk 3D BIM software, design professionals are able to thoroughly document planning decisions in drawings used in the approval process. With cutting edge computer 3D renderings, end users can understand the proposed designs even better. With the new ASST/TMI alliance, design professionals are providing solutions that can truly evolve with end user needs.
---
Let us assist you with your next healthcare casework project! Whatever you need, ASST can build it to your exact specifications, in a safe manner, and to the quality standards you expect. Contact us now online or call us at 717-630-1251.